06/11/20
The debut Carcrash Casino album 'NOBODY KNOWS MORE ABOUT CARCRASH CASINO THAN I DO' will be released on 4th December 2020.
It's avaiable to pre-order HERE AT BANDCAMP both digitally and on CD.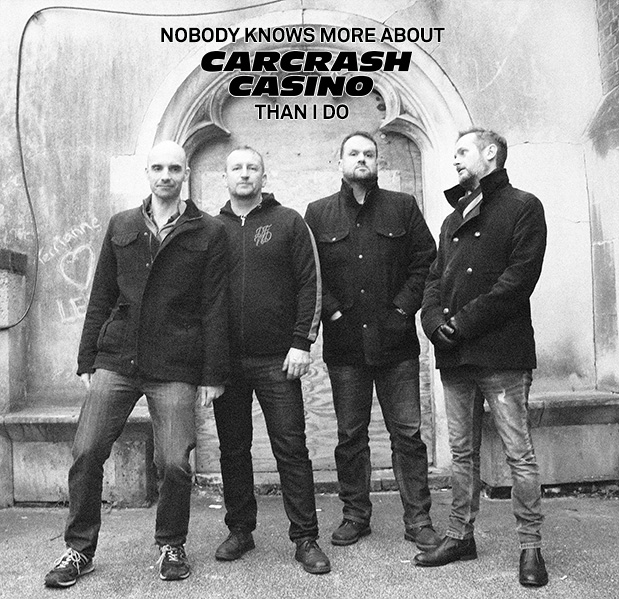 Track listing:
NOBODY KNOWS MORE ABOUT CARCRASH CASINO THAN I DO
1 BREACH OF THE PEACE 4.04
2 DON'T MAKE ME LAUGH 2.07
3 DOORMATS OF THE WORLD UNITE! 5.07
4 COME BACK TO ME 4.12
5 CEASE & DESIST 7.46
6 IN ASCENSION 2.50
7 FIVE FAVOURS PLEASE 2.40
8 SOMETHING'S HAPPENING HERE 4.12
Here's an album sampler for you to have a listen to:
Thanks for your patience, hope you like it and consider getting yourself a copy.
It's been such an grim year for everyone, but especially those involved in the music (and entertainment) industries, we really have to thank Bandcamp for their 'Bandcamp Fridays'.
On the first Friday of each month they are waiving their commisson, so if you order our album TODAY or on release day, then we the artists receive the full amount for our efforts.
Of course, you can order whenever you like, but we'd like you to know what Bandcamp are doing, as they're by far and away the fairest platform for musicians, and we really appreciate what they're doing right now.
We have the digital download, a digipak CD and a t-shirt onsale HERE.
Hoping everyone is well and that our album will bring a bit of cheer/entertainment/escapism during these bleak times.
Love - Andy, Huw, Jon and Si xxxx